MADIMAT Dealer in Martinique Customizes Two Develon DX225 SLR-7 Excavators for the Extraction of Toxic Algae from the Coast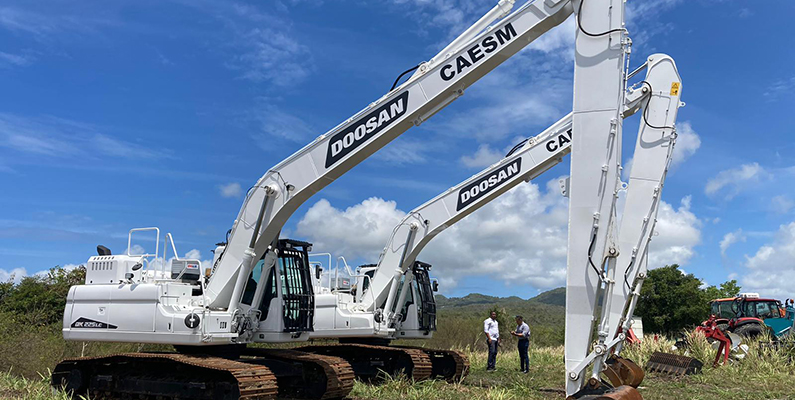 A new Doosan-Develon machine dealer in Martinique for the past five years, MADIMAT, Groupe André LANES, spent several weeks customizing two DX225 SLR-7 tracked excavators for the extraordinary task of extracting sargassum, a highly polluting and toxic type of green algae, from the island's entire southern coastline.

As has been the case throughout the Caribbean over the past few years, Martinique has seen a steady influx of sargassum, a particularly prolific form of green algae originating in the Amazon. They invade the entire coastline, preventing any nautical activity and they suffocate the ecosystem. These algae give off a sulfurous odor when they decompose. The gases, very toxic, cause headaches and vomiting, attack the hulls of boats and even affect household appliances. Beyond the economic and leisure activities linked to the coastline, this is an important public health issue for all residents.
In order to efficiently extract this sargassum, which washes up in large quantities, the Communauté d'Agglomération de l'Espace Sud de la Martinique (CAESM) chose, following a call for tenders, to acquire two Develon DX225 SLR-7 excavators via local dealer MADIMAT, Groupe André LANES. Their 17-meter articulated arms are equipped with a "skeleton" bucket or rake to comb the surface of the water and extract the seaweed, which is then removed by truck for burning at a waste disposal site.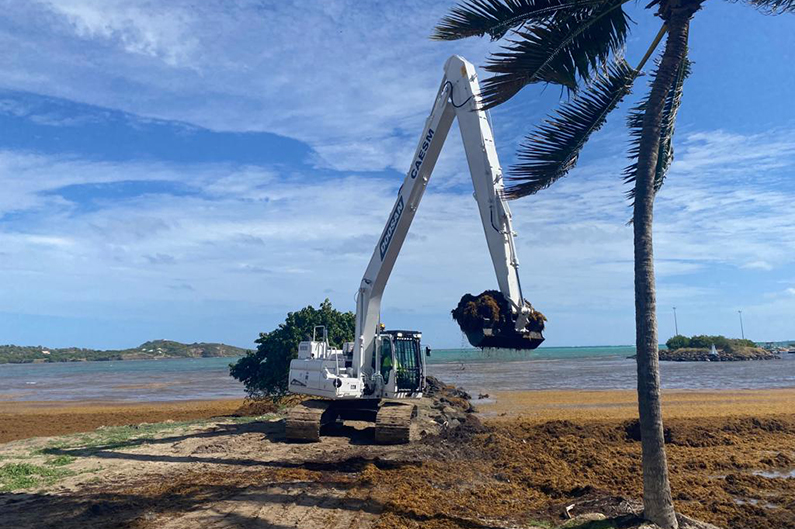 Since the beginning of the year, the two shovels have been working almost daily, bathing most of the day in this extremely corrosive mixture of seawater and decomposing algae. Both shovels have been specially prepared with epoxy paint for this purpose, and are systematically rinsed in fresh water after each day's work.
The DX225 SLR-7 excavators have also been fitted by the dealer with SKF-type automated centralized greasing systems, to ensure that the axles remain well lubricated at all times. Operators particularly appreciate the comfort of the machines in the cab, with very low noise and vibration levels, and excellent visibility in all directions. Thanks to extremely efficient ventilation distribution and the BM AIR air filtering system, these Develon excavators can work without interruption despite the heat and high toxic emissions.
CAESM operators also praise the hydraulic flexibility and stability despite the length of the articulated arms. With a wingspan of almost 17 meters, the machine can efficiently pick up and extract large quantities of algae from the surface.
Weighing in at 23 tonnes and designed to avoid sinking into the sand, these tracked machines are mounted on 800-mm runners.