Launching Doosan Parts Book Application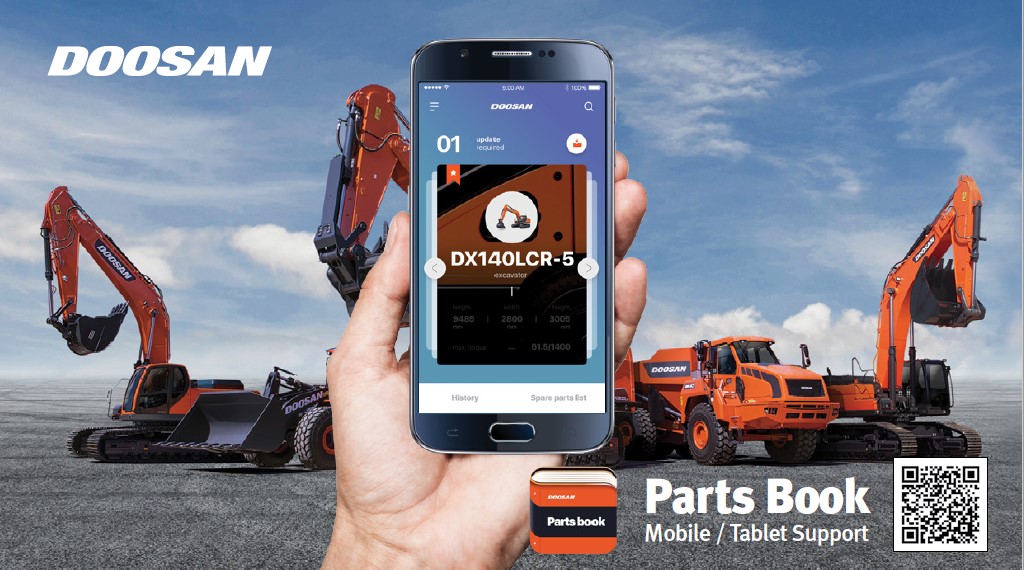 DIEU would like to inform you that the 'Doosan Parts Book' application is available now and you can download the app through Google play store/App store as well.
The Installation of the Doosan Parts Book Application
Scan QR code


Click here for Google play store
Click here for App store


If the link does not work, you can find it by searching 'Doosan Parts Book'.
From September 2019, our dealers/customers will be able to use the Mobile Parts Book instead of the paper parts book. (This has applied to production from Korea since 1st June and the paper version of the parts book will no longer be supplied.)
The user guide leaflet for the Mobile Parts Book will be provided inside every machine.
The paper parts book will be replaced by the mobile parts book and the application is for free. Once the parts book is downloaded for each machine, it can work on the status without an Internet connection too.
As another option, you can purchase the USB parts book (2019 version; 950106-02016A) or paper parts book by model through Doobiz (parts ordering system).
The reasons why Global Doosan Infracore has decided to replace the paper parts book with the mobile parts book are:
To maximize user convenience: the well-designed application is easy and convenient to use as the information is available to hand on the user's cellphone

Easy accessibility: data provided in the app can be viewed offline if downloaded in advance

Prompt updates of information: The real-time update system allows a prompt check on accurate information on parts

Environment-friendly: These developments, involving the replacement of the paper book by the mobile parts book, are intended to decrease the usage of paper.
The Introduction of Mobile Parts Book video is available via this link: HERE
If you have any questions about the Doosan mobile parts book application, feel free to contact our team.