New DX350LC-7 Crawler Excavator will be launched on 1st October
We are excited to announce that our new DX350LC-7 Stage V compliant Crawler Excavator will soon be available for ordering starting from 1st October 2019.
Improved fuel efficiency compared to the '-5' machine
+7% in the S mode, +6% in the P+ mode
Key enablers are the new generation Smart power control (SPC3) and the improved fuel efficiency of the engine.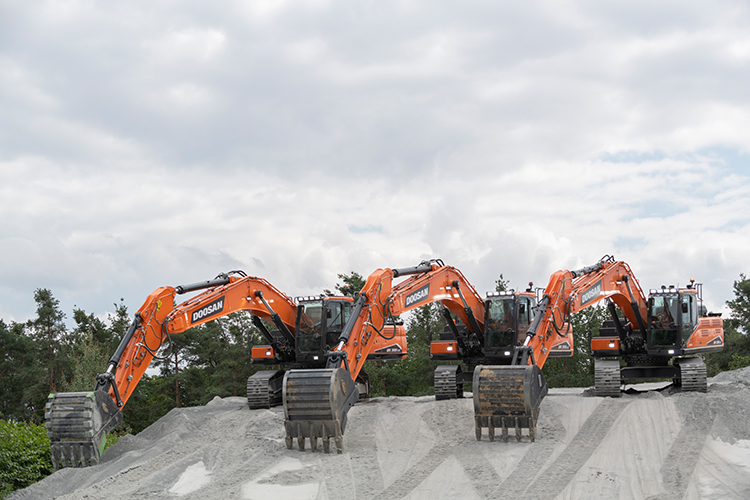 DX300LC-7, DX350LC-7, DX380LC-7
You can look forward to the following exciting features available on "-7" machines:
New 8-inch touch-enabled colour LCD gauge panel
Simplified Power Modes - choose from 4 power modes instead of a complex 8 power modes and SPC combinations
New high-quality seat
Smart Key
Ultrasonic detection of obstacles (option)
LED light (option)
Side protection (option)
Air compressor (option)
Stereo system integrated in the gauge panel
360° Cameras providing full visibility around the machine and allowing the operator to see a top-down view of the area outside the machine
The DX350LC-7 model features a new generation engine to meet the latest Stage V engine emission regulations. It is a new solution without exhaust gas recirculation (EGR) to increase the quantity of air during combustion - the temperature during combustion is therefore higher and the amount of emission particles are reduced as much as possible.
Thanks to the new technology, the diesel particle filter (DPF) requires really low maintenance.
Main specifications of DX350LC-7:
Standard configuration with 6.5m mono boom and 3.2m arm
Weight: 36 tonne
Bucket capacity: 2.0m3
Speeds 3.5 / 5.7 km/h
Engine: Doosan DL08 Stage V
Power: 209kW net at 1800rpm
Digging reach: 10980mm
Digging depth: 7540mm
Digging height: 10325mm
Length: 11350mm
Width: 3200mm standard track and 3000mm with narrow track
Height: 3390mm