Latest Doosan Product News
We are pleased to inform you that our new DX250WMH-5 material handler is now available for ordering!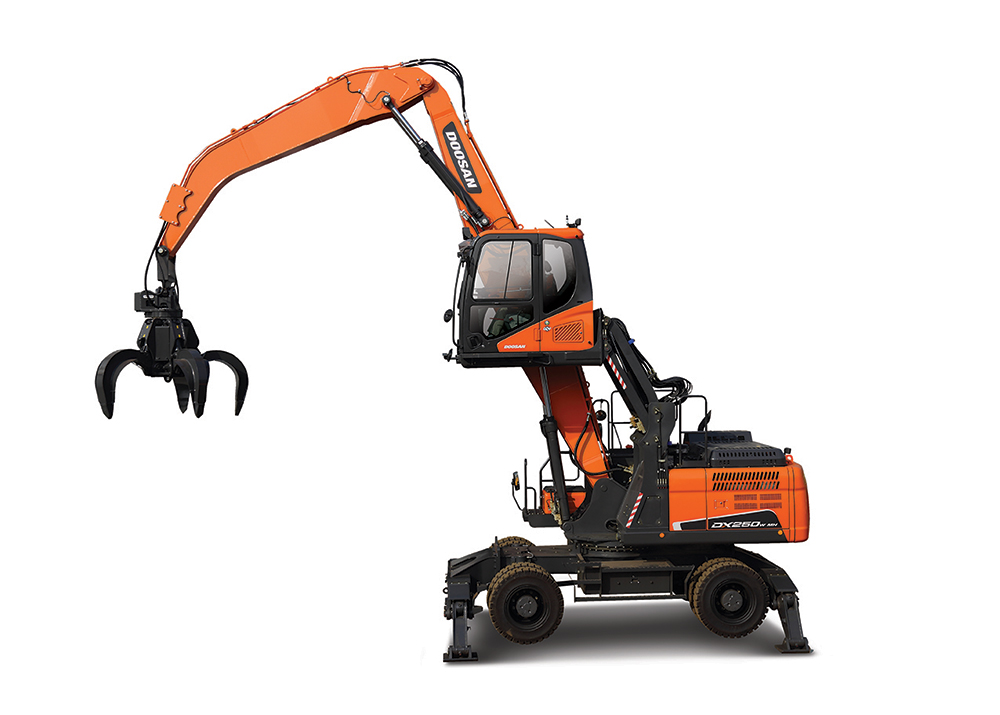 Doosan® material handlers are built specifically for scrap metal and solid waste handling, recycling and dealing with other types of bulk materials. Based on the well proven line-up of Doosan wheeled excavators, this new material handler model offers an unbeatable combination of high performance, efficiency, durability and ergonomics. With one of the most dependable, capable and comfortable material handlers on the market, your customers can now move much more material every day.
The new wheeled material handler has two arm cylinders and a very stable main arm. The maximum pin height is 12 m, the maximum operating reach is 10.7 m and the maximum working depth is 4.7 m.
The elevating cab provides excellent visibility and high flexibility. The operator can adjust the cab height to a maximum of 2.5 m and has easier access from the ground and better visibility when operating the machine.
A floating boom and rear and side view cameras are standard equipment for more comfort and safety when operating the machine. To match customers' applications and to enhance productivity a range of options such as undercarriage variants, straight arms, solid tyres and FOGS as well as a choice of attachments are available.
Meet our new Doosan Stage V compliant Articulated Dump Trucks offering a new design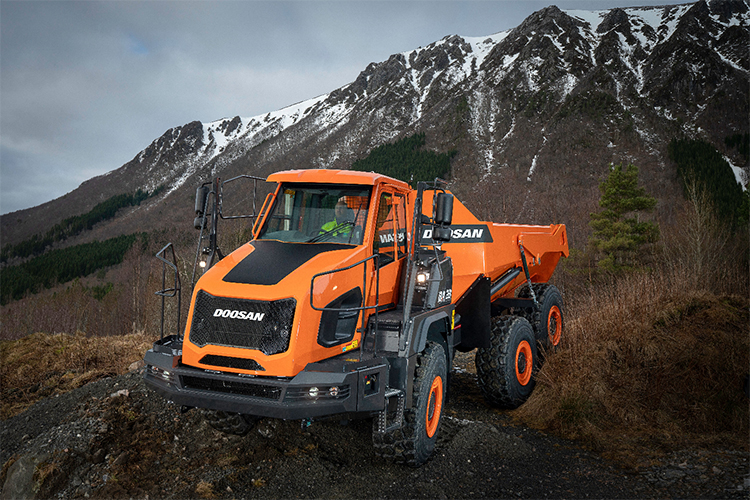 At Bauma 2019, Doosan Construction Equipment will be launching new 30 and 40 tonne Stage V compliant articulated dump trucks (ADTs), replacing the previous DA30-5 and DA40-5 Stage IV models.
Both new models will have a range of additional features including the repositioning of diesel, AdBlue and greasing systems to make them all easily accessible from the standing position on the ground. Other improvements have been made to the tandem bogie system and a self-levelling front suspension is now installed that adjusts itself independently depending on the operating conditions to ensure a more comfortable working environment for the operator.
As well as these changes, the new Stage V models offer an eye-catching new design for the front frame and bonnet components on the trucks and are powered by new Scania Stage V compliant 9 and 13 l engines!
You can discover even more exciting new features on the ADTs at BAUMA 2019.
The new ADT models will be available for order in Q4 2019.
If you have any questions, please contact our PM on adrian.winnicki@doosan.com
DX10Z, DX17Z and DX19 are now Stage 5 compliant
Our DX10Z, DX17Z and DX19 mini-excavators are now Stage 5 engine certified.
DX27z and DX35z preview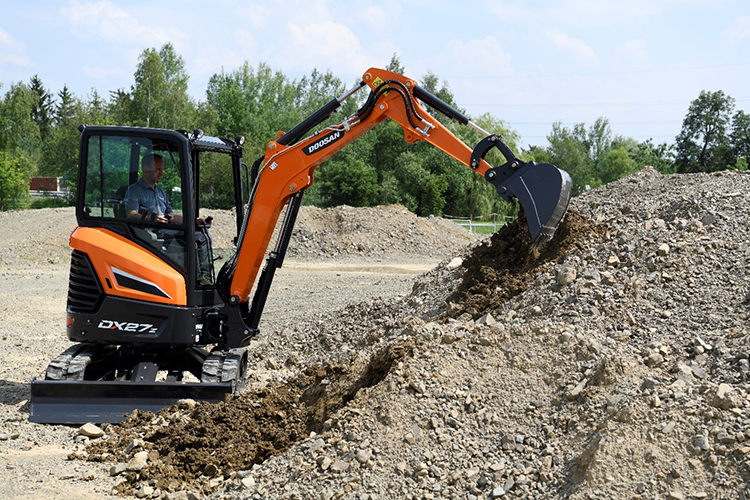 New Doosan Stage V Mini-Excavators
Doosan has enhanced the company's range of mini-excavators with the launch of the new Stage V compliant 2.7 tonne DX27z and 3.5 tonne DX35z zero tail swing models. These new machines provide a best-in-class mix of superb stability, smooth controllability and high digging forces, complemented by low weights for easy transportation.
Your customers will enjoy the completely new design for the main structure of the machines, cabin exterior and interior with a number of outstanding features such as new joysticks and new optimized metal travel pedals, a new low noise-low vibration cab, ergonomic 3D handles, a wider door, a redesigned boom cylinder guard and much more!