Doosan Infracore China Corporation Exceeds Cumulative Production Total of 200,000 Excavators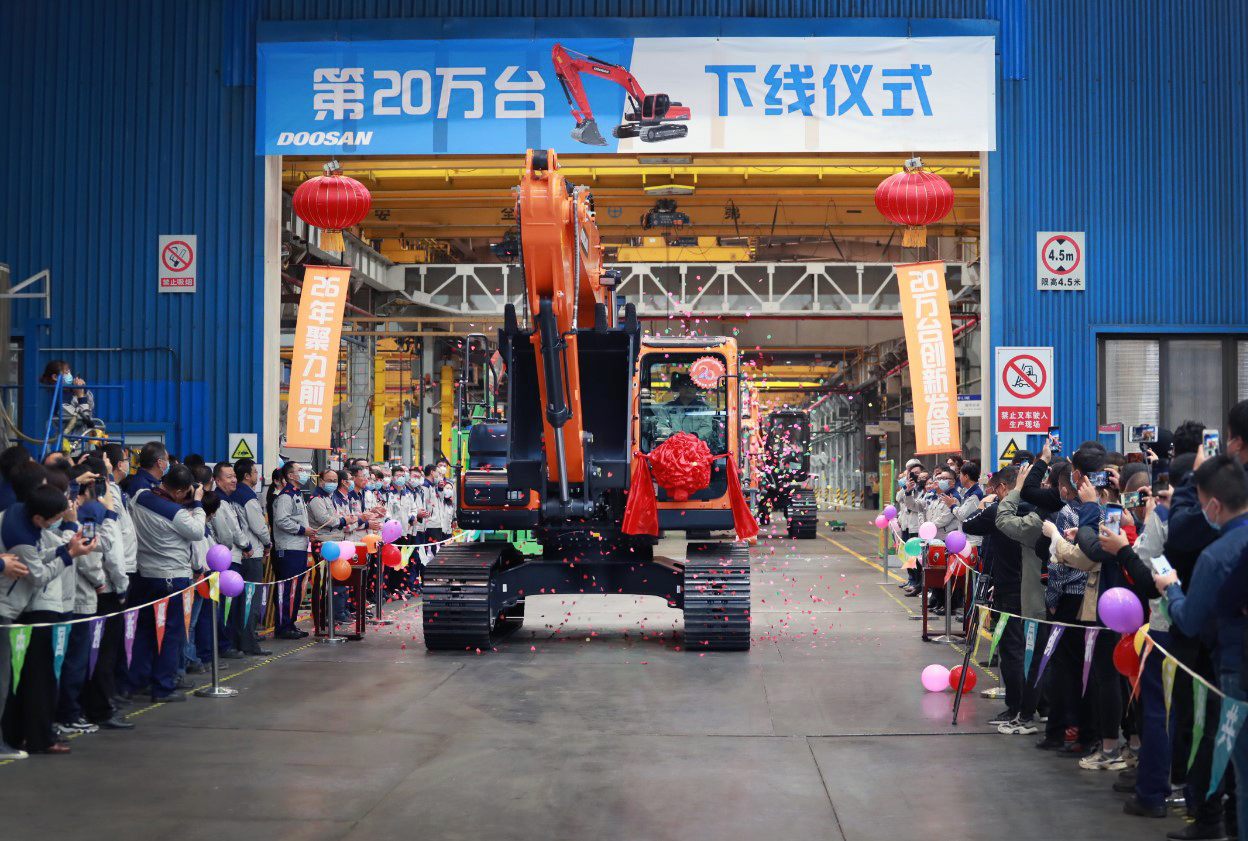 Doosan sets a new record 26 years after entering the Chinese market, the first among international companies operating in China.

Annual sales and quarterly sales revenues up by 21% and 55%, respectively. Doosan aims to further increase market share with customized products and services.

First to Achieve 200,000 Units
Doosan Infracore is the first MNC (Multinational Corporation) operating in China to achieve the impressive cumulative production figure of 200,000 units. The company has steadily strengthened its market position in the Chinese market for MNC excavators, increasing its market share from 12.9% in 2015 to 22.8% in the third quarter of 2020. The Chinese MNC excavator market has positioned itself as a market with a large amount of profitable equipment sales to higher-tier customers.
The Chinese excavator market recorded its largest ever annual figure of 200,000 units in 2019. However, it contracted for about two months in the aftermath of the COVID-19 crisis at the beginning of 2020, but has recorded rapid recovery since March.
The market is estimated to have achieved another record in 2020 by growing to 275,000 units per year. In 2019, Doosan Infracore sold more than 15,000 units in the Chinese excavator market, while its total sales up until the end of the third quarter of last year amounted to 14,348 units, up 21% from the same period in 2019. In addition, it posted sales revenue of KRW 308.9 billion during the third quarter of 2020, representing an increase of 55% over the same period the previous year.
In line with the growth of the Chinese excavator market, Doosan Infracore continues to release new products and special equipment customized to the requirements of Chinese clients. For instance, the company launched a new 6 ton wheeled excavator in July 2020, as well as an enhanced equipment inspection service campaign to maximize satisfaction among its customer base. It has also conducted online service training for a total of 7300 agents based at its dealerships across the country.
In keeping with the growth of its business in China, Doosan Infracore has increased its contribution to the development of local communities. Since 2001, it has participated in 'Project Hope', which aims to provide academic support and improve the educational environment for youth in underdeveloped areas of China. It is currently promoting the construction of 37 Doosan Hope Elementary Schools in the country. Doosan Infracore also offered various forms of educational support to ten schools in the second half of 2020. In recognition of its contribution to Project Hope, Doosan Infracore has won both the Outstanding Contribution Award from the China Youth Development Foundation in 2017 and the "Exemplary Korean CSR Companies in China Award" from the Korean Embassy in China for three consecutive years.
An executive from Doosan Infracore said: "Doosan Infracore China, having grown into an energetic 26-year-old, was able to achieve the 200,000 unit record in line with the growth of the Chinese excavator market," adding, "we will do our best to increase our customers' satisfaction and reinforce our position as the market leader by supplying unrivalled products and services optimized for the Chinese market."