Doosan Dealer Megatron Opens New Headquarters in Bulgaria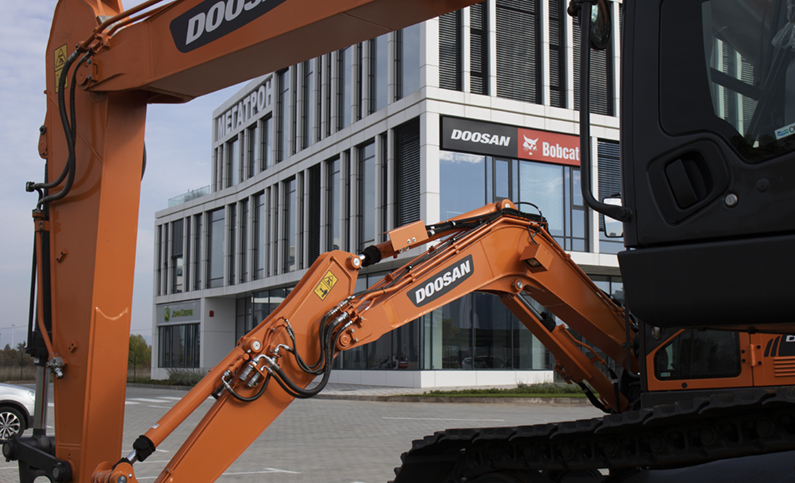 Sofia-based Megatron EAD, the Authorised Dealer for Doosan in Bulgaria, Serbia, Croatia, Slovenia, Bosnia and Herzegovina, Montenegro and Macedonia, has opened a new business centre incorporating the company's headquarters and central trade and service facilities, close to Sofia Airport in Bulgaria.
The new Megatron business centre covers an overall area of over 4160 m², and includes comfortable, airy and modern open plan office space and various separate meeting and demonstration rooms arranged over three floors.
The new 610 m² service facility in the new business centre is equipped with the most advanced tools and working conditions to allow Megatron to respond to any customer request, with enough space to work on eight to ten machines simultaneously. In the 736 m² warehouse that also forms part of the new development, tens of thousands of parts and other items are stored on the extensive two tier shelving system.
The new business centre is based around a large central area with well-organized alley ways with walking areas, street fitness equipment, basketball/football areas and an 'off-road' path for demonstration purposes.
The new Sofia centre is the latest investment to grow the Megatron business. Appointed by Doosan in 2009, Megatron EAD was founded in 1998. Over the past 20 years, the company has established itself as the undisputed leader in the sale, maintenance and service of high quality construction equipment, agricultural machinery and forestry, golf and garden equipment.
Since 1998, Megatron has expanded substantially and in Bulgaria alone has nine trade and service bases and retail outlets in Sofia, Pleven, Ruse, Dobrich, Targovishte, Plovdiv, Stara Zagora, Yambol, Burgas, Silistra and Montana. The company employs over 220 highly motivated employees, 70% of which are in the Aftersales service operation.