DX50Z, DX55R and DX100W-7 are now available for ordering!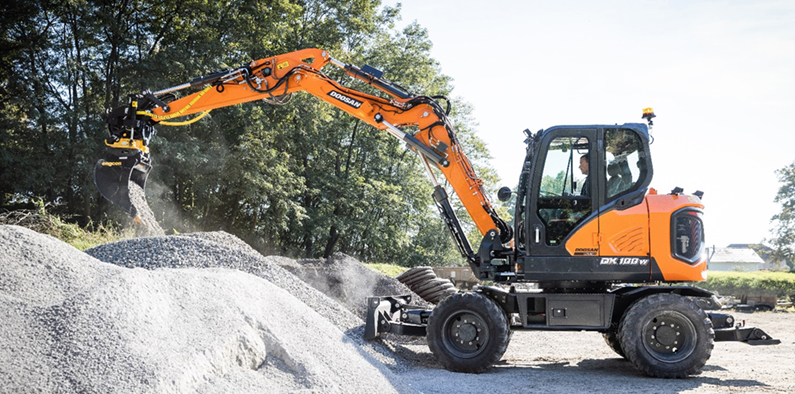 From 15th December, you can place orders for the new DX50Z, DX55R and DX100W-7 excavators using the Doobiz system. Priority allocation is not guaranteed if you have previously reserved one of these machines with Sales or DST - please place actual orders in the system as soon as possible.
DX100W-7
Highly awaited by our customers, the DX100W-7 is designed mainly for urban applications, as well as road maintenance.
We wanted the best compromise between compactness and agility, but with excellent performance and high-end comfort. It is very important that this type of machine can operate in very restricted areas, so we have equipped this machine with four steering wheels (optional), and also a crabbing mode.
The boom is articulated, to be able to position the machine as close as possible to trucks during loading. The counterweight has been designed to offer full maintenance access from the rear of the machine, and from ground level.
In the cab on the DX100W-7, you will find a large touch screen to easily browse through all of the settings, an optional 360° all-around view monitor, linked with ultrasonic detection, a premium seat and of course, a smooth and precise hydraulic system, offering a really high flow to drive all kinds of attachments.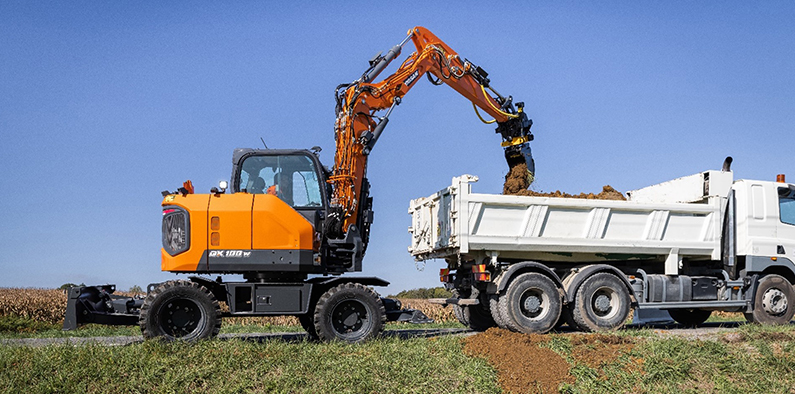 DX50Z & DX55R
These are the first two models in the updated range of Doosan Mini Excavators that will be expanded further in 2022. These models have a larger working range than competitors through pinpoint optimization despite having similar boom and arm lengths, providing superior lifting capacities and digging forces. The D18 engine provides the highest performance and complies with Stage V emission regulations. Designed specifically for heavy duty applications, it gives hours of low cost, efficient and effective operation.
The styling on the DX50Z and DX55R is particularly robust and state-of-the-art, featuring a zero tail rounded shape. The all new spacious and comfortable cab provides:
A full Glass Door
8'' Touch Screen LCD
DAB Audio (Handsfree/Bluetooth)
TMS 3.0 Cell
Luxury Seat with air suspension
Thumbwheel joystick
Aux Flow Control 10 steps
Dozer Lock Valve (parts option)
Travel Speed switch on the Dozer lever
Cup Holder & Power Socket
The new machines have a redesigned platform, with upgraded upper structures, offering improved durability and robustness. An optional additional Counterweight of 200 kg is available for DX55R.