New Doosan DX165WR-7 Reduced Radius Wheeled Excavator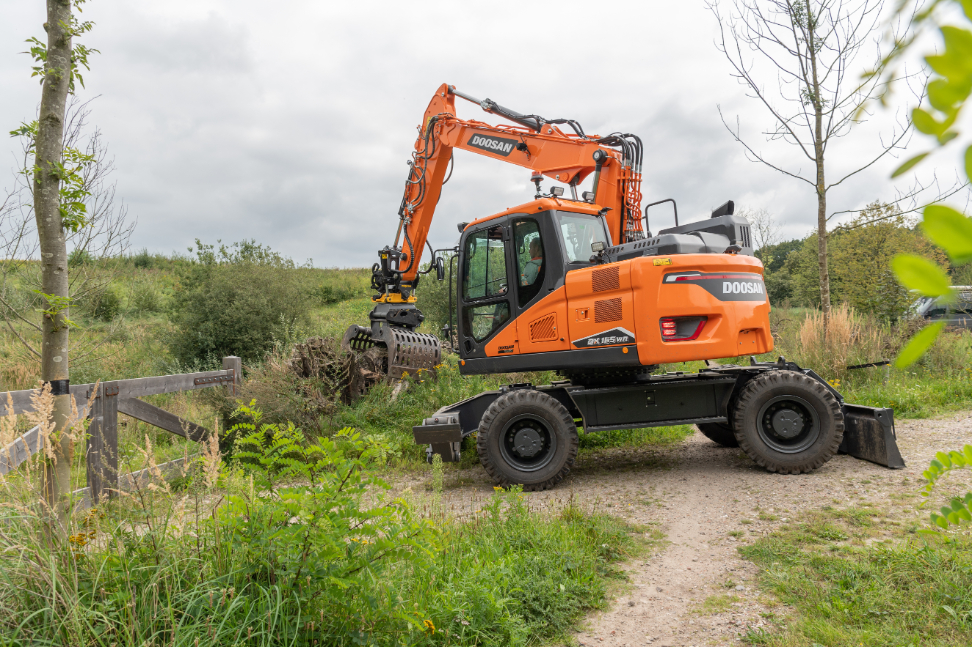 Doosan has launched the DX165WR-7 Stage V compliant wheeled excavator, a new short tail machine that is perfect for jobs in tight spaces, particularly in urban areas or on narrow roads with heavy traffic.
The DX165WR-7 is built with the same undercarriage as the new DX160W-7 Stage V model, providing an optimal centre of gravity thanks to the long wheel base and the ideal weight distribution. As a result, the DX165WR-7 offers maximum performance, combining the very short swing radius with the best stability and lifting capacities for this class of machine.
Providing the extremely precise, powerful and smooth digging control required for trenching and lifting work, the DX165WR-7 provides significantly higher performance in every area than the previous generation Stage IV machine. Like Doosan's other new 'DX-7' wheeled excavators, the DX165WR-7 brings together enhanced comfort, increased tool carrier capability and novel operator assist features, with new developments to boost fuel efficiency, uptime and return on investment, with a focus on increased power, robustness and agility.
Enhanced Tool Carrier Capability
The DX165WR-7 offers improved front movement for rotating tools such as mulchers and the working range for articulated fronts has also been improved. The articulated boom cylinder stroke has been increased whilst the mounting position remains the same. A lock valve has now been added on top of the boom cylinder, to prevent unexpected releasing of the articulated boom cylinder when doing digging work.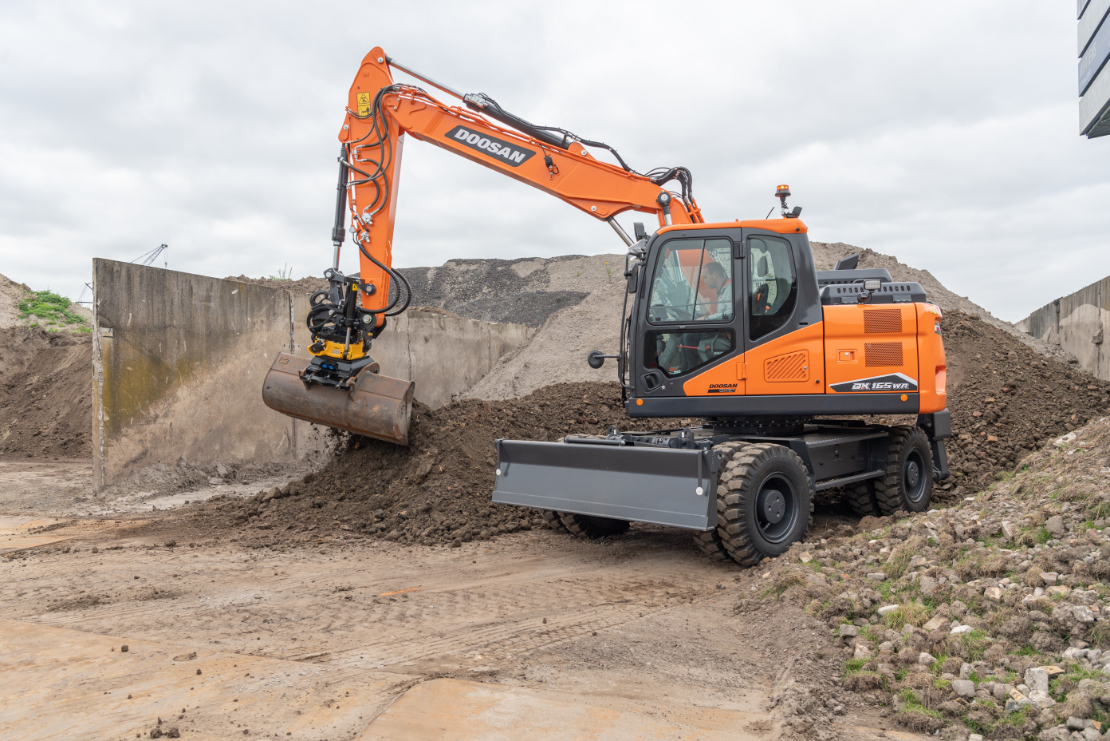 The DX165WR-7 incorporates an impressive 3.3 tonne counterweight as standard, for both monoboom and articulated boom configurations, but can be equipped with an optional heavier 3.8 tonne counterweight. This contributes to the higher lifting and digging capacities in the DX165WR-7, compared to the previous generation model. With the optional 15% heavier counterweight, the DX165WR-7 is particularly suited for working with heavier attachments such as tiltrotators.
New Tiltrotator Mode
There is a new Tiltrotator Mode on the control panel in the DX165WR-7, which can be selected to ensure an optimized hydraulic flow and helps to maximize the accuracy of tiltrotator work by eliminating back pressure. This new tiltrotator mode is a special two-way flow mode, but it is managed by the EPOS like a one way flow mode, with direct return to the tank in each direction, to avoid back pressure and increase flow and controllability.
To accommodate the heavier counterweight, the DX165WR-7 is equipped with the heavy duty ZF3060 axle. The DX165WR-7 also has a new upper structure providing the space and durability for the standard and optional heavier counterweights and articulated fronts. By adopting bolt-on type assembly, there is an increased overhang on the rear/front undercarriage, providing even better stability.