Taking Inspiration from Other Industries to Increase Sales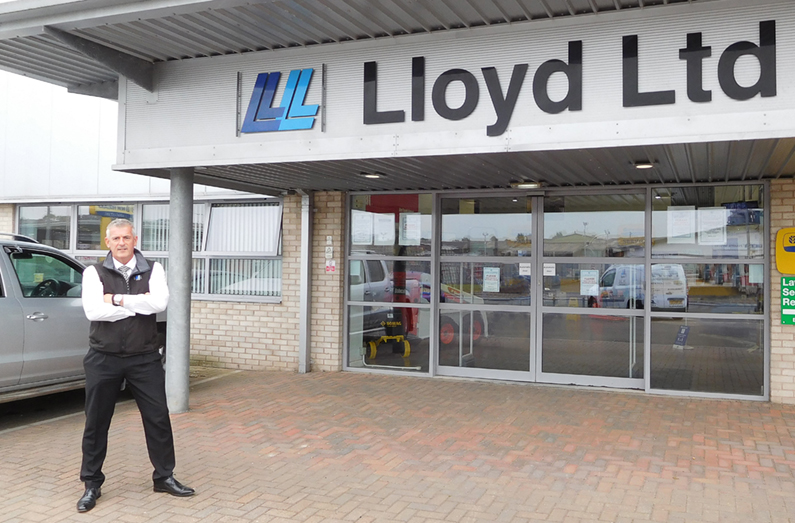 We sat down with Chris Stephenson, Group Sales Manager at Lloyd Ltd. (UK), to chat about his experience in the automotive industry, what dealers can do to stand out from competition, and why leads are like gold nuggets.
Hello Chris, thank you for taking the time to talk to us. Could you give us an introduction to your professional journey so far?
I would say that I have been in sales all my adult life – after leaving school I worked in our family's three retail grocery stores, then I spent 10 years in van sales for a local bakery company. At age 30 I took the next step into automotive sales at Lloyd Motors where I spent over 20 years. After many good years in automotive sales and then management I became a bit disconnected due to all the Manufacturer standards, systems and micromanagement that got in the way of the actual face to face contact with customers and selling, so I decided to take a break. Four years ago, I started a new chapter in construction equipment sales management at Lloyds Ltd.
Since you have had success in sales in different roles and industries, do you think it's something that comes naturally, or did you have to keep learning sales skills as your career progressed?
I've always been good with people, with face-to-face interactions, even as a young lad. I suppose that does come naturally. But all my career, especially in automotive sales, a huge chunk of success was learning, training, sticking to tools and processes, and never letting an opportunity slip.
How do you think one can improve sales skills?
Training and experience. There's no substitution for that. I feel that many new sales people don't get any training. Weak sales are hardly the fault of the staff if you don't give them any training or share experience! Also, training should be mandatory and actively promoted by management rather than relying on voluntary e-training. Investing time and money into your staff is vitally important for any business if you want to improve morale and loyalty.
Is there something that sales staff in construction equipment could learn from the automotive industry?
To be honest, automotive is light years ahead of construction equipment when it comes to customer care or processes as the standards in that industry are extremely high in general. I am always trying to use the best practices I learned and adapt them to this industry. Even small improvements can help construction equipment dealers stand out from the crowd, attract new business and create loyal customers. I try to help and teach people around me by demonstrating and sharing my many years of training that I have benefitted from.
Do you see the same gap in standards when it comes to the use of digital channels such as online marketing or social media?
Absolutely – there is no doubt that having a professional website and engaging social media presence are the basics of succeeding in today's market. Many dealerships are playing catch-up and should get serious about investing in digital. I understand purchasing a car is a very different proposition as it is a passionate purchase whereas purchasing Construction equipment is a much more a rational decision.
Over the last 18 months or so with the covid 19 outbreak we couldn't have survived without social media and a robust sales process.
When it comes to customer care, what do you think are the biggest challenges in Construction?
This is an area where even small changes can make a huge difference. Two things are key: communication and urgency. I think that it's extremely important not to leave a customer hanging in any part of the sales process. From greeting customers and providing accurate information to timely response to any requests or checking on the customer – it's critical to make sure customers always know what to expect, have all they need and feel special and welcome. As we say in the industry – if the customer is trying harder to buy the product than you are trying to sell it, they will make the purchase somewhere else!
Do you have any other advice for dealers who want to take their business to the next level and stand out?
Doosan has a quality product and you do not need to be the cheapest to sell – you simply need to be the best. Take the best ideas and practices from other industries. Invest in a high-quality, interactive website, get insights from different people in your company and increase their skills through training. Adopt a customer-first, positive approach. And always, always take the time to respond to requests and act on leads.
Let's talk more about leads – just how important are they for selling Doosan products?
Leads are priceless, and we should treat every single one like a gold nugget. Every single lead can potentially result in a sale or multiple sales. And there is no comparison between cold calls, which seem harder to pull off than ever before, and leads – the contact information of a customer who is already interested in your product.
What are the most common issues with lead management that you see in the construction equipment business?
Given the value of leads, it's surprising that sometimes people don't treat them with the respect leads deserve. Getting basic information like a customer's name, contact information or the product they are interested in. This is the absolute basics, it takes seconds or minutes to write down and can make or break the first contact. It's also crucial to take action on a lead as fast as possible, even if it's just forwarding it to someone else. Nobody is too busy to let a sales opportunity slip! After all, the Doosan Lead Management Tool makes this really simple but it can be improved.
Speaking of the Doosan Management Tool, how useful is it for you personally and how does this fairly new tool compare to more established software?
To me, managing leads on a daily basis is second nature, so I use it all the time. To be honest I find it surprising that someone would not take advantage of it – it's so easy to create leads and keep track of them that way. Personally, I really like the simplicity of Doosan Lead Management Tool and the clear focus on one function, which definitely beats the bloated commercial tools which are so complicated that they often remain unused or ignored. That said, I am really looking forward to the features in the updated Doosan Management Tool like delegating leads, bulk editing or statistics.
Let's wrap up with a glimpse into the future – what should dealers think about doing now to stay relevant some years from now?
It's clear that shopping habits are changing fast, people do a lot of their research and homework online and know all about the product even before coming into contact with us dealers. So a slick, interactive website is a must, and let's not forget that for the next generation of customers, social media is the primary communication channel. However, some good old-fashioned 1-to-1 communication will always stay important in construction sales, so make sure both your online presentation and your team are up to date and customer friendly.
QUOTE:
"If the customer is trying harder to buy the product than you are trying to sell it, they will probably make the purchase somewhere else!"