Bauma China 2018 report
Held between 27th and 30th November 2018 at the Shanghai New International Expo Centre (SN6IEC), the 9th international trade fair for Construction Machinery, Building Material machines, Mining Machines and Construction Vehicles, better known as Bauma China, was record-breaking in every aspect.
A total of 3,350 exhibitors from 38 countries and regions were involved in this year's Bauma China, which had a 25 per cent larger attendance, with 212,500 visitors, 94 percent of them coming from Asia. 73% of exhibitors came from China, including most of the top tier organisations in the Chinese market such as China Railway Construction and Sany as well as the likes of Caterpillar, Liebherr, Volvo and Doosan, of course.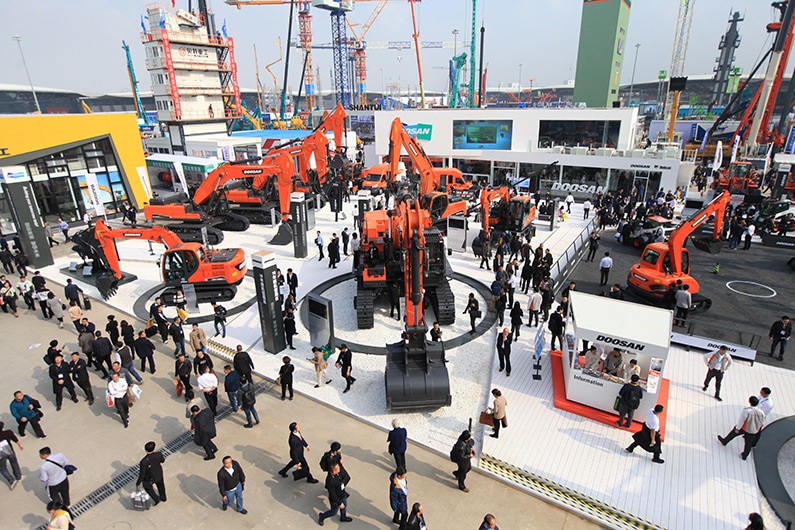 Doosan presented a total of 17 machines – 12 Doosan excavators, two Doosan wheel loaders and three Bobcat compact machines, as well as two types of compact and mid-size engines (D34 and DL06) meeting the new China VI emissions standard, on a stand with an area of around 2,000 sqm located in the middle of the outdoor area of the show.

One of the most interesting exhibits from Doosan was 5G construction machinery remote control technology, which has been co-developed with LG U+. It is the first time in the world that remotely controlling construction machinery across national borders via 5G telecommunication has been attempted. In fact, with the presentation on the stand, Doosan provided the world's first demonstration of real-life remote control of an actual piece of construction machinery situated a long distance away in another country, not a virtual reality simulation or short-range remote control of a machine on the stand.
Bauma China was the first time this technology had been introduced to the public and the machine featured was a Doosan excavator physically located in Incheon in Korea about 800 km away from Shanghai.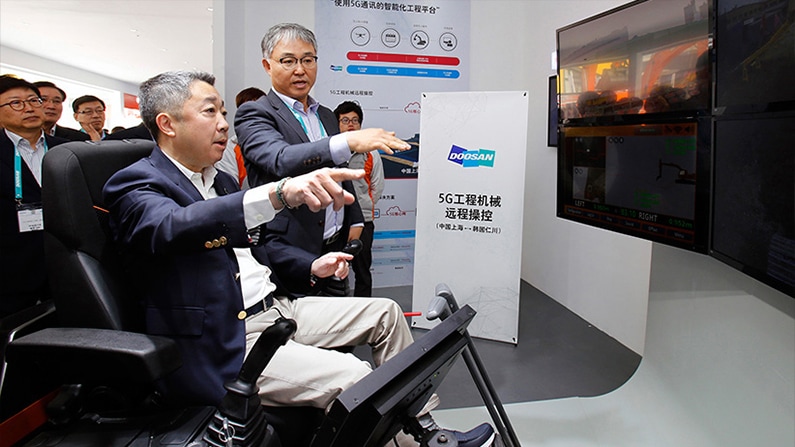 Doosan Group Chairman, Jeongwon Park, visited the trade fair with his team and stressed that "high quality should be a given, and it is time for us to embrace digital transformation to compete in the Chinese market."
Doosan has been enjoying significant revenue growth in China – up from 600 billion KRW in 2015 to 1.4 trillion KRW in 2017 – driven by earnings growth for both Doosan Corporation and Doosan Infracore. In fact, Doosan Infracore sold a total of 10,851 excavators in the Chinese market in 2017, more than a two-fold increase in sales compared to the previous year. This year, the company surpassed the previous year's record in just eight months and this year's sales are ahead of schedule.
To enjoy more about Bauma China, please visit https://www.youtube.com/watch?v=eIfg0t3m53E