Doosan Infracore Participates in the Vietnam International Machinery Fair 2018
Doosan Infracore participated in the Vietnam Machinery Fair (VIMAF) 2018, which was held at the Saigon Exhibition and Convention Center (SECC) in Ho Chi Minh City, Vietnam from December 12-14, 2018.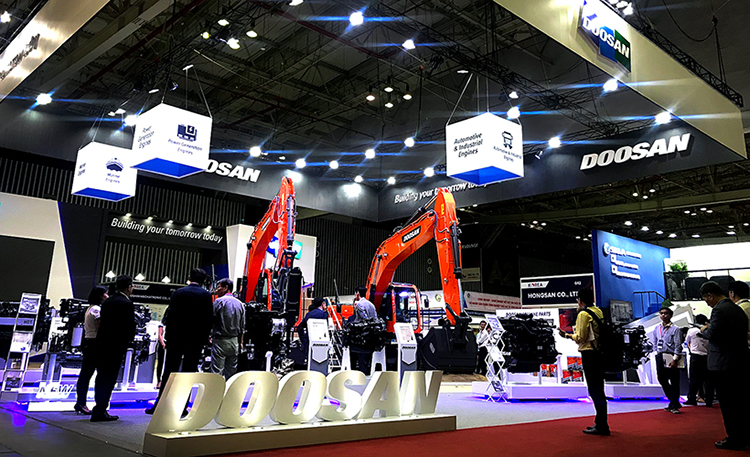 The VIMAF 2018 is Vietnam's first international machinery fair to be co-hosted and co-organized by the Korea Association of the Machinery Industry and COEX (Convention and Exhibition Center). The international fair attracted some 219 companies, including more than 120 Korean businesses, engaged in diverse industrial sectors related to engines, construction machinery, metal processing, machine tools, motion control, plant equipment and industrial machinery.
Doosan Infracore, which boasted the biggest booth at the exhibition, introduced various engines and types of construction machinery under the banner of 'The Power to Move Vietnam'. Doosan Infracore's exhibits included eight types of engines for vehicles and vessels, power generators including the company's new products, the DX12 and DX22, and two of the company's flagship excavators for the Vietnamese market, the DX225LCA and DX140W, as well as main pumps and attachments.
Company set to accelerate market diversification using Vietnam as a springboard for the region
Doosan Infracore entered the Vietnamese engine market in July 2017 by supplying its bus engines to three commercial vehicle manufacturers in Vietnam. Doosan Infracore currently ranks second in the Vietnamese excavator market, with a market share of about 26% (as of October 2018).
An official at Doosan Infracore said, "We are concentrating our resources on laying a solid foundation for exports from Vietnam by building partnerships with outstanding local businesses in Vietnam," adding, "We will accelerate our efforts to diversify our overseas markets by using Vietnam as a springboard for further expansion into the rest of Asia."