New Facility Branding for Ummenhofer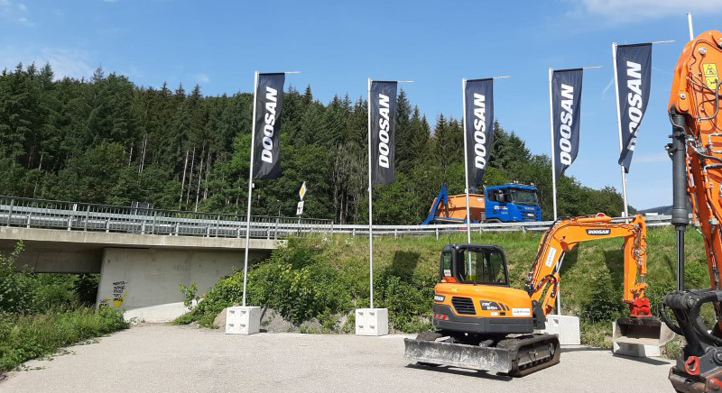 Taking advantage of the Brand Partnership Program support (75% financial contribution), Ummenhofer installed Doosan branded building signage and a 4 meter high totem along with 6 meter flagpoles and flags to the external area. Internally, a branded showcase and wall mounted literature holders were added to the reception, and further branded signage and graphics was installed in the main office, meeting rooms and workshop facility.
The dealership sits on a prime plot offering a 1,300 sq m workshop featuring 4 large bays for machine servicing. Ummenhofer also holds genuine Doosan parts on-site plus is the base for 7 dedicated service vehicles which provide in the local and surrounding area. The dealer also has one other outlet at 79677 Schönau im Schwarzwald.
The new branding has improved the overall outlook of the facility and the Doosan branded logo has enhanced visibility, clearly identifying the site as a Doosan dealership which now meets the Doosan dealer brand standards mandatory requirements. Over the last two years there has been an ongoing project to improve the awareness of the Doosan brand across Europe by starting at each dealer outlet to ensure appropriate branding is present with a consistent identity. Ummenhofer have certainly gone a long way to improve the Doosan brand identity, so congratulations are in order to a great job!
After one year as a Doosan Dealer
The first year as a Doosan dealer was a complete success for Ummenhofer. Daniel Ummenhofer, Managing Director: "This was a very successful year for us. We were able to significantly exceed our expectations in terms of both sales and service orders. Of course, this also required a lot of work. Our staff attended several training events on the topics of sales and service in order to offer customers the best possible advice. At the same time, the internal processes have become more and more smooth. We look forward to continuing and expanding this positive development this year. Our decision in favour of the Doosan brand was exactly right."