DL280-7 in Agriculture


DL280-7
Engine Power: 190 hp @ 2000 rpm

Bucket capacity: 2.7 – 3.0 m3

Payload*: 5390 kg
*Payload varies with machine specifications (tyres, additional c/w), bucket type. For the exact value, ask your Develon Product manager.
At Develon, we understand that farm work is relentless, requiring a machine that excels in performance, fuel efficiency, operator comfort and productivity. That's why our wheel loaders are meticulously designed to cater for diverse applications, guaranteeing exceptional outcomes and meeting the distinct demands of your working environment.
With Develon's adapted wheel loaders, we prioritise your comfort, safety and performance by offering a wide array of options, specialized tyres and attachments, ensuring an unparalleled experience.
Every farmer has their unique set of requirements, and wheel loader manufacturers have acknowledged this fact. Develon wheel loaders are configured to meet specific needs for different applications. Farmers can choose from a range of options, tyres and attachments to tailor the machine to their precise requirements, enabling enhanced efficiency and adaptability.
Long hours on the job can take a toll on operators' well-being. Recognising the importance of operator comfort, Develon engineers have invested in ergonomically designed cabs with air conditioning and state-of-the-art controls. This ensures that operators can work efficiently and safely, even in adverse weather conditions.
With a focus on sustainability and reduced environmental impact, Develon wheel loaders are designed with fuel efficiency in mind. Engine and driveline technologies have been improved to minimise emissions and maximise fuel economy, helping our customers to reduce their carbon footprint while optimising operating costs.
In addition to their primary functions, wheel loaders can be adapted for specific agricultural tasks. They can be fitted with attachments such as buckets, forks and grapples to handle tasks such as silage handling, manure spreading and hay bale handling with ease and precision.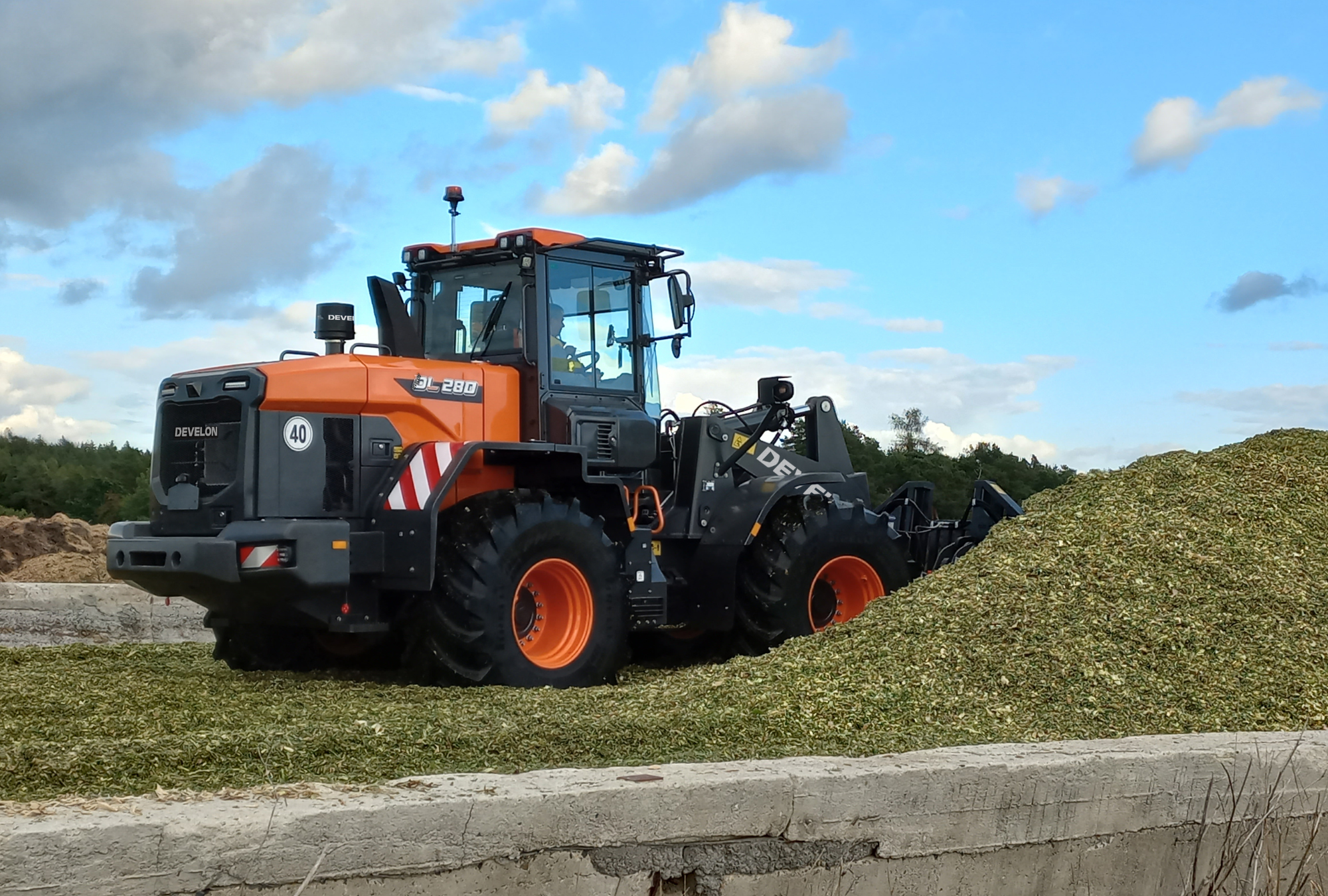 Fully loaded
The third hydraulic function with adjustable flow allows the use of hydraulic attachments, adding versatility to customers' machines and allowing them to switch between attachments in seconds.
The Z-bar linkage system provides high breakout and lifting forces, contributing to greater load stability.
5-gear transmission with a Lock-up Torque convertor for fast travel speeds allow the machine to move around the farm efficiently.
Limited Slip Differential provides the best traction and pulling effort in all conditions.
LIS – boom suspension for maximum comfort
Automatically reversible fan
DL280-7 Agri Handler:
DL280-7 with Z-bar standard arm and EMCV hydraulic joystick control
5-gear with lock-up
Limited Slip Differential
Quick coupler
3rd spool valve with settable flow for hydraulic attachments such as silage forks or high dump buckets
Tyres 750/65 R26 or Twin tyres on front axle (20.5R25 + 320/85R34)
Axle stopper on rear axle (110406-06323)
Develon wheel loaders offer both exceptional power and speed, allowing these machines to work in difficult conditions. The superb quality and durability guarantee top operating performance.